The Giving Tree Foundation, Inc. is a tax-exempt public charity. Contributions to the organization are tax-exempt under section 501(c)(3) of the Internal Revenue Code. We provide receipts for all charitable contributions. Thank you in advance for your support!
How Your Donation Helps
When you donate quality items to The Giving Tree, you support students attending school in Wake Forest (public, private and charter). The proceeds raised through the resale of your donations allows us to provide funding for ongoing educational, enrichment and extracurricular programs. Your donation also supports community recycling efforts and contributes directly to the local economy.
To Donate Quality, Gently-Used Items
Please bring donations to the rear of the shop. There are parking areas on both sides of the store for your convenience.
We accept donations during our regular business hours:
10:00am to 5:00pm: Monday through Friday
We love to get your donations, but can only take them if they are clean and dry and in working and usable condition, suitable for immediate resale.
Guidelines of Acceptable Donations
Please review our guidelines below of Acceptable Items. We may not be able to accept some items based on condition or suitability for sale in our store.
Accessories (scarves, belts, jewelry, handbags, wallets, gloves)
Antiques, Collectibles & Vintage Items
Artwork, Paintings, Wall Art, Mirrors
Baskets & Crafting Items
Books – Children's and Adults
Cookware & Kitchen Items
Dishes, Glasses, China
DVD's (in a storage case) – No VHS tapes
Furniture (small and medium sized)
Gardening Supplies, Tools, & Decor
General Home Decor Items ( vases, lamps, bookends, etc)
Holiday items (accepted at any time of year)
Linens ( comforters, pillows, area rugs)
Toys & Games ( in original container, with all parts & pieces)
Guidelines of Unacceptable Donations
Clothing – Exception: Mondays & Fridays clothes may be dropped of for The Children's Closet of Wake and Franklin County
Shoes
Electronics : Computers, Printers, Ink, TV's, Radios
Car Seats, Potty Seats, Baths, Crib Bumpers/Mattresses
Helmets, Life Jackets, Flotation Devices
Large Appliances : Refrigerators, Washers, Dryers
Encyclopedias, Magazines
Mattresses, Futons
Large Exercise Equipment
Weapons of any kind
Recalled Items
Items in poor condition with broken pieces or parts
Toxic or Unsafe Goods
Wet, Moldy, or Mildewed Items
Items that small of cigarettes or mothballs
Obscene Materials (DVD's, Books, etc)
How do you feel about no-guilt retail therapy? Come shop with us and know that your purchases support a good cause! Each purchase earns a credit for the participating Wake Forest school of your choice and supports local sustainability efforts by upcycling once-loved home goods. It is a win-win!
We sell donated furniture, china, cookware, glassware, collectibles, artwork, wall decor, linens, cookware, and books. We also have children's books and toys, as well a selection of new items (jewelry, scarves, soaps, and lotions) to complement our existing line of donated merchandise. Providing this new merchandise alongside the used allows us to provide an upgraded customer experience and brings in customers who might not otherwise go to a resale store.
Whether you are a true thrift-shopper looking for "the thrill of the find", a price-conscious parent managing a budget, a young adult decorating a new home or a DIY shopper looking for items to "fix up" – this is the store for you! Stop by and enjoy our boutique shopping experience with discount prices.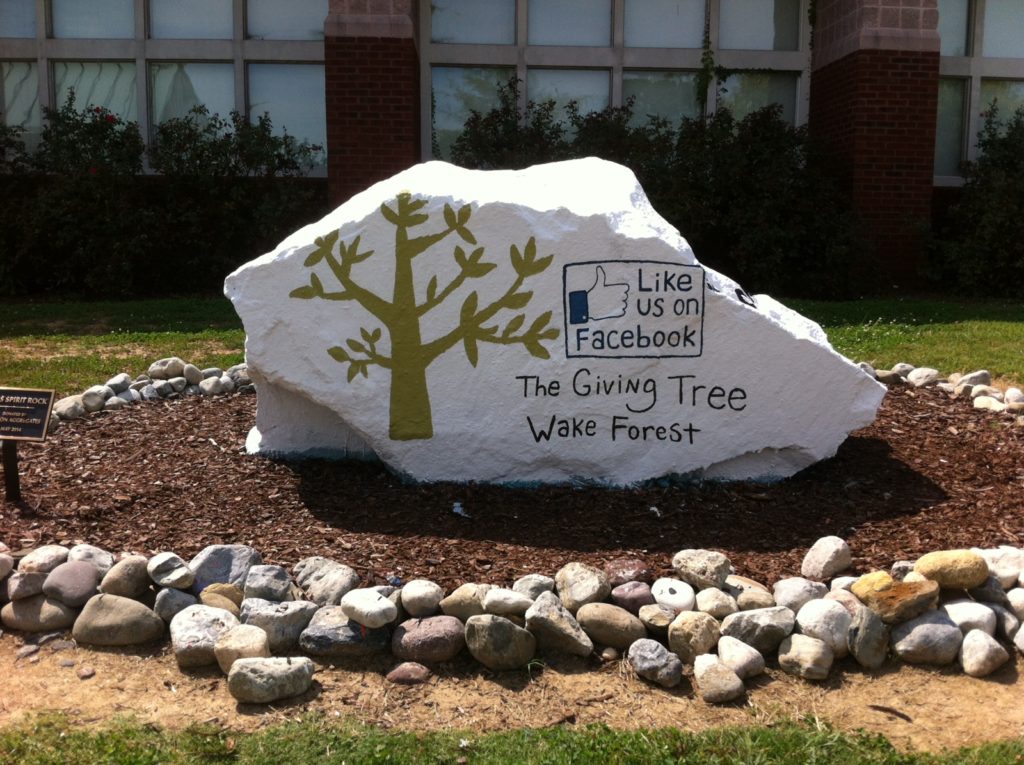 Thank you for considering volunteer opportunities with The Giving Tree! We rely on your help to keep our daily operations running smoothly and appreciate your time. All new volunteers will need to complete the following Volunteer Application.  Once we have reviewed your application and you have been accepted as a volunteer, we will setup a volunteer training session for you with one of our regular employees. After you have completed your initial training session, we will work with you on a mutually beneficial volunteer schedule.
It will take us approximately 1 week to review your application and get back in touch about an initial training session.
Error: Contact form not found.